Journey To Bhopal
Rahul Desai | 03 Apr, 2006 | About 2 mins read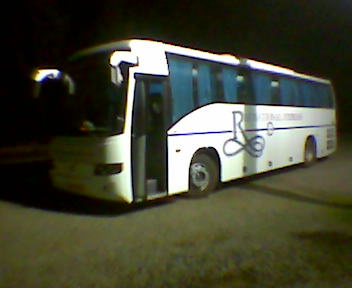 Titles can really be deceiving. The ideal article title here could have been "Traveling by Raj National Express". I basically wanted to write about my recent journey from Pune to Bhopal by bus. A great new experience altogether! Like okay, I used to have 24 hrs bus-journeys from Bangalore to Mumbai and Pune to Indore and so. But gone are the days. Lately, my super-delicate body has left me with no option than train/air route or on occasions, NO route! More than 4-5 hrs, by road, that too in a bus (let it be Volvo whatever), it's just not my cup of tea anymore.
However, beliefs are made to be broken I must say (or was it theories?). I was left with no option, had to take a bus to Bhopal, and guess what? I know at least three airlines which offer cheaper air-fares than this bus fare. Against less than two hours journey to Bhopal (for Rs 950Air Decaan, Rs 550 Go Air, Re 1 Air Deccan FF-Bonanza Bid), I opted for Raj National Express (formerly Raj Travels) with a 15 hours alternative for Rs 990.18 (inclusive of all taxes). However, it wasn't NOT worth it.
For the people with that airplane journey phobia and some poorer opinion of Lalu Prasad's Indian Railways, this is the option! There are some commitments associated with this 990 bucks lottery ticket: you leave on time, reach on time, and get everything and anything in between this! The flight (oops! The bus) left sharp at 7 and hit the highway just to stop for its dinner halt after three and a half hours. More than one TV screen, your personalized headphones-thing, movie/music selection, onboard attendants, unlimited eating options, a bagful of complimentary stuffs – a blanket, a pillow, a pair of headphones, some fragrance tissue-sort of a thing,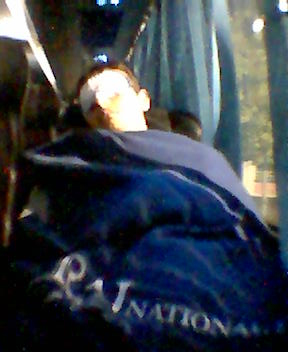 designer sleeping eye mask, about a billion chocolates (okay if you aren't impressed yet, this (the Service!) is still rare in buses in India.), and on and on. An ultimate airplane experience, without flying off the land! Hey hey… if you observed, I actually wrote a complimentary blanket! Believe it or not, they gave me a blanket and asked me to take it along. Now that's an interesting marketing gimmick since this is something new in buses (to me, at least).
Though the bus reached late by more than an hour, it was Good. The respected government of Madhya Pradesh decided not to cooperate, the roads were all dug here and there, and some scenic accident sites to add fragrance to the gold, there was little the bus driver could do to drop me off on time. So it was a happy ending overall. And the bonus, the bus's last stop was Habibganj Railway Station - right at the doorsteps of my house!! What else do you need out of your life? I learned they have an online booking system. So next time, before clicking on flykingfisher.com and airdeccan.net, do visit www.rajnationalexpress.in for an unusual change.

Related Article: Of all places, why Bhopal?