Accidentally Witnessed The History
Rahul Desai | 13 Mar, 2006 | About 2 mins read

Yet another hot Sunday in Bhopal, Raghu and I were trying to get some work done at the office. With my typically casual interest in any cricket match, I just peeped into the scorecard. Halfway through the match, the result was quite obvious. In 3rd Final of the Australia – South Africa ODI Series, I knew Australia already had it their way. What I didn't know was that the train of surprises hadn't even started off.
Those not into cricket, read: You just missed an adrenalin hit! The last 24 hours in the cricketing world have seen some real turmoil.
At lunch, the records as they occurred and the scorecard looked something like this:
434: Australia, the first team ever to score more than 400 in an ODI (one day international)
256: Maximum runs scored in boundaries by a team in an inning
150: Ricky Ponting scored the fastest 150, just in 99 balls
Australia Final Scorecard: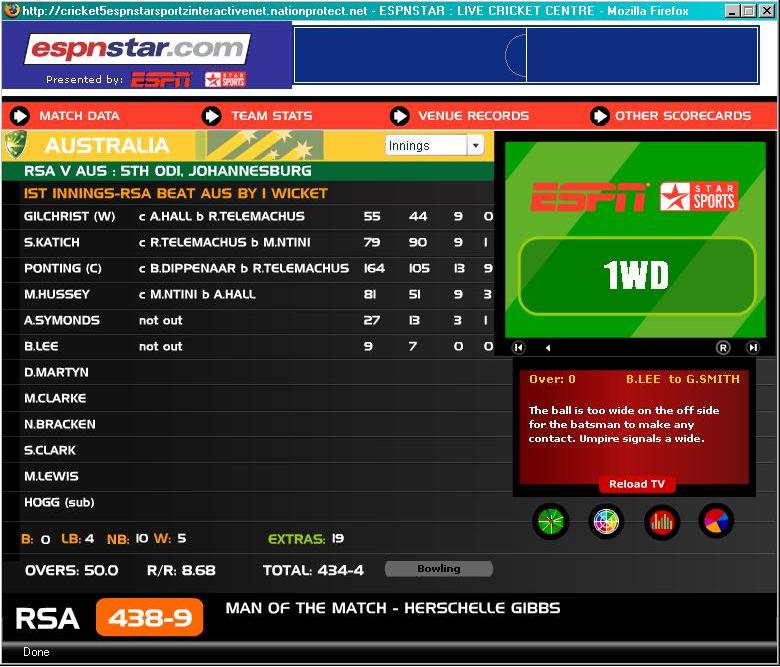 Just when we were hoping to wrap the work up and head home, Kunaal and Amit noisily broke in. Kunaal with his pseudo expertise in Cricket insisted we went and watched this (one-sided) match. Amit 'Bhopali' Vyas (apparently working in Pune) was craving to just go and sit at our ultimate evening destination – the Coffee Shop at Jehan Numa Palace.
And so we reached to be a part of the golden day of the ODI Cricket history - which only blessed ones must have gotten to witness. And millions of religious worshipers of cricket are unlikely to forget - for this life, at least.
At the end of the match, some recently created records were updated (broken?) and some more were created:
438: South Africa hit a world record for building the highest total ever
434: Happens to be the highest total ever chased
872: Runs piled up during the match
504: Runs were scored in boundaries (87 fours, 26 sixes)
126: Runs by Herschelle Gibbs, highest runs in boundaries
113: Runs conceded by Australian pacer Mick Lewis is the most by any bowler
This is what the South African Scoreboard looked like: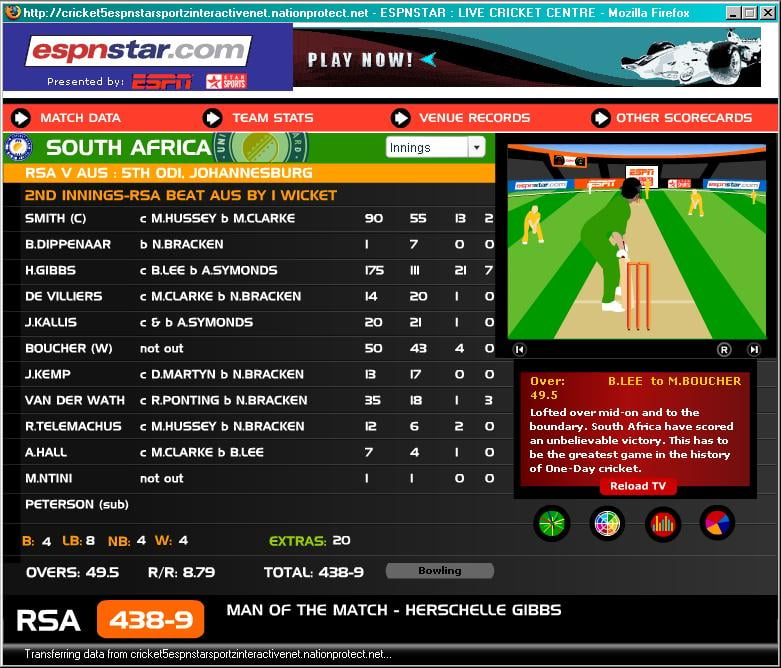 On the other hand, the confident Men-In-Blue have added yet another feather to their crown. While Anil Kumble just signed into the 500-club, Team India has submitted a victory over England in the second of the three-test series.
FYI, India is ranked second in the Test Cricket Ranking, next only to the Aussies. With this victory today they're at a 1-0 lead in the series. One more match to go. What say, guys, double or nothing?