Have I Been Too Late?
Rahul Desai | 08 Dec, 2005 | About 3 mins read

A wi-fi enabled notebook and a compatible multimedia mobile phone (with sufficient calling currency) can make a killer combination.
6:25 on a Thursday morning, the computing machinery wakes up and a preset media player playlist pops up (Windows XP Scheduled task) at my service. Meanwhile, Nokia PC Suit auto-connects to the 'Airtel Mobile Office'. 6:30 now, Outlook Express comes in (a Scheduled task again), and 'you have no new messages'. Not an issue; there will be one, by 9:00 for sure. And I guessed it right: there's a new message, on reaching the office. Mail from a friend, asking to meet over coffee in the evening post-work. Ctrl+R, "Deal", Alt+s. No redundant communications ever, after this. Just an email with some acknowledging tasks. (Thankfully, none of those hundreds of planning calls, Rs 1.20/min each)
Between this, the reminder on my cell phone ticks: I have to make a presentation post-lunch between 3:00 and 4:00 pm. The 'Meeting'-type reminder also specifies the person's name and contact number whom I have to 'meet', apart from the meeting timing, duration, and location. Not to mention, all this well in advance, giving me all my time to rehearse. On the way, I realize my mobile-phone battery is low. Not an issue: the latest technology DKU-5 (cell-to-PC connecting cable) can also be used to charge the cell phone through the notebook's battery. Thank USB! So here I manage to reach, on time. It's a government office: Bhopal Development Authority (BDA).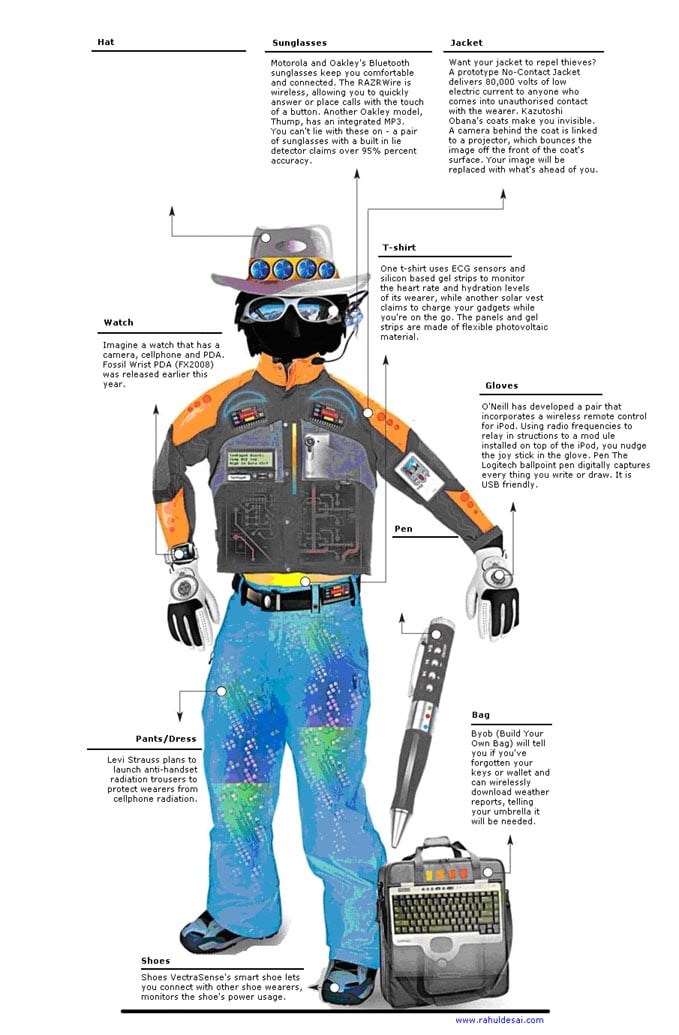 As the name suggests, an Indian government - Sarkari scene. The boss appears at 3:20 PM and asks me to wait a while more. Good, I can transfer the images captured in the BDA gardens from the cell to the PC, meanwhile. And guess what? An email from Sonalben (my cousin in Fremont). She sent her kids' pictures. Ummm… why not transfer it to the cell and set it as the wallpaper? Thankfully, BDA Babu gives me all the time under the sun to do the needful. And this looks good on mobile-screen. I better MMS it to Ben (my sibling, in Bombay). Instant SMS reply from her, she liked it. And the Boss too has time to shower his mercy.
Done with the meeting, back to my own office around 5:30 pm. And something waiting for me: a voice message on the answering machine. Whoever it is, just doesn't know how to leave a message on an answering machine. Wait, why does it show my cell number on the 'incoming' list? Just a sec. The voice message is from my cell. What the (!?). Oh, I had set all calls to divert to my office number. Need to check the received calls list, for that period. Mom's mobile? I better call her. Oh, I see. Ben sent Sonalben's kids' picture to Mom's cell. Mom called back to tell me she loved the pic. Just wanted to covey. Message somehow conveyed, ultimately! Maata Shri, it just doesn't end with buying a 3-G mobile phone.
The invite in the morning mail read '6:30 PM, Barista'; I manage to reach on time and here I find them, two of them, already there. Waiting for me (never knew my single-word email was so committing and powerful). Sipping up the bitter caffeine, these guys can talk anything but sense. But didn't I need this? A healthy-light-pointless short talk; to end a hectic-restless-tiring day? Agreed, you have to schedule even your breathing when in business; but then hello! What's the point of taking up your venture if you can't take a little time out to chill with friends? Oh, friends reminded me, Bina-Pritesh (Birmingham, USA) called this morning. Lisa and Emma (London) were also with them. They had flown in for a vacation. All had a ball of a time, touring. I was in the middle of my presentation rehearsal then; so called them back later, around noon.
Hi-tech communication resources, as well as affordable access to them, are not a big deal these days in India. The challenge is to make the best utilization. Well, it is a challenge only as far as you are out of reason. With a bunch of first-grade friends spread all over the world, nothing can stop me from using technology to communicate with them. And what stops me from using the technology anyway? As one of my friends in the West says, 'None ain't no far no more'!
If technology can regulate my routine (for good) if I can be the best in touch with all my people in different corners of the sphere, is it so bad being so technology-dependent? If not, am I too late to reach this level?