Dilemma
Rahul Desai | 16 Jan, 2009 | About 2 mins read

Talking of Dilemma, a few things hit my mind:
http://en.wikipedia.org/wiki/Dilemma
http://www.howstuffworks.com/morality-located-in-brain1.htm
That monophonic Dilemma – Nelly ringtone on Nokia 3310 mobile, back in early college days.
The context in this article is slightly (or completely?) different. It's the dilemma whether to stay back in Baroda or go back home.

This must be a great deal; it motivated me to 'write' after a long time – more than five months. I'm on my way to Baroda (Vadodara) Railway Station from Chintan-Bina's residence. On one hand, it'll let me spend one extra day with my parents before I conclude my three weeks long vacation. On the other, I'll get to spend one more fun-filled Uttarayan celebration in Baroda.
Overwhelmed by their hospitality, it made more sense to stay back. This isn't the first time I got an opportunity to spend quality time with Chintan's family, at their residence in Baroda. And it's always gotten better. First opportunity to familiarize with Bina in her 'Bahu' avatar and let me testify – she rocks! Or should I give credit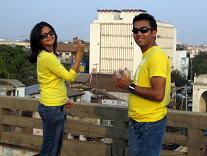 to Chintan's parents? Or does Chintan run entire show? Whatever it is. I loved it. Touch wood! In all senses, a reason to stay.
Another reason, Uttarayan in Baroda! If you know about it, you know what I mean. If you don't, you've been missing on something. Uttarayan in Baroda has a lot more to it than just kites! Really loud music (barely annoying on the given day), absolutely all citizens on their roof-tops or out on the roads, sky full of kites (despite not-so-great wind) and everyone screaming to her/his peak, assaulting their vocal chords. I had never seen this celebration-aspect of this festival before. (It's not even a public holiday in Pune, for that matter.) With Bina-Chintan's BIGG friend circle gathered in a not-so-BIGG terrace of an old tall building, it just couldn't get better! The kit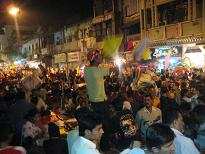 e-flying continued even after the sunset. A never-ending bash of fireworks followed, which took over the kites covering entire sky with light and colors! A whole new experience.
All the good reasons to stay back, the choice was simple. I had already made up for all the missing fun with Bina-Chintan, in last fifteen days. It was time to share the joy with my parents. But, this certainly was the best Uttarayan ever. And it's likely to remain so!