Unprecedented Vacation of 2010
Rahul Desai | 11 Jul, 2010 | About 2 mins read

It must have been due for a while. Especially for the things I've done (rather, things that happened to me) in the last two weeks,
Completely unplanned holidays
Unexplored exotic beach(es)
Colored my hair red
Football – FIFA World Cup Live in Goa!
Busted bladder with Breezers
Explored amazing Music (Instrument) Stores, on foot
...followed by some Asian-style Foot Massage
Day-long train journey (in a real Indian way) - Konkan route!
And then the fastest bus ride (like the 'Fastest Indian'. MSRTC rocks)!
Finally visited Ravi's house (again unplanned, or in fact, accidental)
Long drive(s) – of a few hundred kilometers!
Socialized (to the core)
Caught up with cousins (1st, 2nd and more)
Interacted with my new relatives (No confusion - I'm talking about my just-born nephews and newly-wed cousins' spouses)
Danced (like crazy) in the rain
Saw Maradona (meaning, Argentina) losing :( and Janak winning :)
Tones of movies (well, not literally)
Unlocked some more badges
Donated blood
Redesigned (re-defined?) my website
Completed some pending articles (including some unplanned ones)
INKED! Got tattooed. Just like that.
...I really feel I needed this break.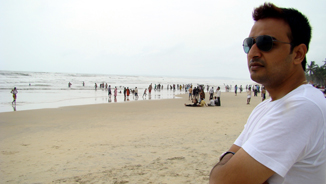 For a change, I don't want to reference Wikipedia for the ideal and theoretical details. And in trying to explore my own meaning, I feel a vacation would be the time when we wouldn't complain about not having time – for family, friends, the self. A time to do things we wouldn't/can't do otherwise. (Like playing the saxophone!?)
A vacation would be an attempt to take time away from the routine so that we can get back to the same routine but with a different (higher) energy level. It should be fun enough that we can gladly forget the stress at the workplace (and more so, at home); relaxing enough that we can actually offload the pains and recharge our spirits (literally with spirits, at times), and should be long enough that we feel the crave to get back to routine, the work and our comfort zone – something we all like the most, fundamentally – for better.
I couldn't think of a better time off for myself. Friends, Family, Fun… what else would I want? (Don't even answer that! I know what you're thinking.)
Rejuvenated. Guess I'm ready for the work – and the new role!