The One Minute Apology
Dr Bharat Desai | 27 Sep, 2010 | About one min read


Dr. Bharat Desai's review of "The One Minute Apology" by Ken Blanchard and Margret McBride:
A powerful way to make things better.
A manipulative technique for getting what you want.
A power of forgiveness to improve or repair relationships, your business, and even your home.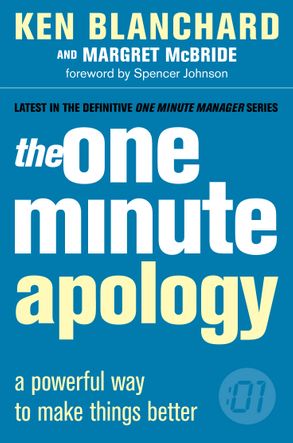 This is a rare book exploring a very important subject – poorly understood and hardly bothered. I will start with the most important issue which is,
"The toughest part of Apologizing is realizing and admitting that you were wrong."
The power of the one-minute apology is deeper than just words.
The core of most problems is the truth you don't want to face.
The longer you wait to apologize, the sooner your weakness is perceived as wickedness.
Without a change in your behavior just saying "I am Sorry" is not enough.
Apologize not for the outcome, but because you know you were wrong and it is the right thing to do.
When you honestly express your feelings with someone you care about, you show respect for yourself and the relationship.
A one-minute apology can be an effective way to correct a mistake you have made and restore the trust needed for a good relationship.
Author: Ken Blanchard, Margret McBride
Publisher: William Morrow
ISBN: 9780688169817