Why Pune Is Not Bangalore
Rahul Desai | 09 Jan, 2013 | About 6 mins read

I have spent the biggest part of my sane life in Pune (Maharashtra, to be precise). If forced to define, I would say I am equally or more a Marathi (Maharashtrian) as I am a Gujarati. I have loved every moment (almost every) of my time there and I any day love Pune and being in Pune more than any other places I've ever been to.
Little over two years ago, fate had me relocate to Bangalore. Another beautiful city, but with less than limited love interest from my end. Rang Shankar, Radio Indigo, and Cha Bar aside, there was barely anything to feel energetic about. And then suddenly, Bangalore was declared 3rd Best City To Be Visited In 2012 one fine morning. Not much later, a worldwide survey honored Bengaluru as the best Indian city to live in. (My moving to Bangalore didn't influence these developments in any way.)
I know I just said I liked Pune more than Bangalore, and I still do. But I can't keep from wondering. Why isn't Pune the best Indian city to live in? It's not important whether Bangalore deserves to be called whatever it is being called these days. The point is, Pune is not anywhere in the list of 221 cities they came up with. What may possibly be going wrong?
I'm not talking about the climate or geographically strategic location or similar aspects we can't control. Let's take up some most basic and common things relevant on a day-to-day basis.
1. Language – Marathi: I agree one should know (and put sufficient effort to learn) the local language. It gives an edge in routine interactions and transactions. But how fair is it to penalize someone because you've found out that s/he is not a locale? My most typical experience has been a Marathi question (and not an answer) in response to a simple query in Hindi or English. The simple purpose is to check your "local quotient" and the treatment changes accordingly, in turn, adding to the undue financial incurrence. When language starts costing, how do you expect an alien to settle here?
2. Transport: The public transport in Pune is a joke. The local shuttle trains are terribly limited in terms of their coverage of time and area. The bus service is so inadequate, it's far from being compared to Bangalore's BMTC (let alone Bombay's BEST). The whole BRTS experiment turned out to be an expensive experiment, with crores spent on infrastructure and just adding to the inconvenience to the citizens. Taxi or Radio cab services are still in their primitive state, and it would be easier to deal with a gangster or mafia than interact or trade with local Auto-rickshaw guys.
3. Infrastructure: Can't blame the Transport system alone. Pune fundamentally lacks the civil infrastructure, and more importantly, the willingness to improve it. Most roads in the city are still in primitive shape. The ones ready are always under repair; most bridges are still under construction and water drainage is ill-planned. Little rain blocks major roads and this issue seems to be nobody's business.
Municipal Corporation is busy taking all the pride in letting flashy malls and multiplexers rise, which - in no way, is a credit to their kitty. They feel they have done enough and the citizens prefer cursing and ignoring, over fighting and contesting. Of all the years I lived in areas near Aundh and visited Payal and Kaushal in Viman Nagar, the Holkar Bridge had been 'under renovation'. After more than six years, I hear it's finally ready! I'm confused whether to feel happy or sad.
4. Administration: With Pune Municipal Corporation (and PCMC too) having adopted e-governance, it just seems they've invented a way of e-corruption. Even after meeting all the eligibility criteria, including owning a residence in Pune, I could never obtain a Voter's Card. I guess I was too alien to decide which criminal to be elected representative of the area I lived in. (I could simply bribe and get a ration card! Dumb me.)
The Pune Traffic Police top the charts in corruption in their fraternity; they appear only to loot someone in the name of some God-forsaken traffic rules. The only other instance they surface is when some lady President or non-Indian President of the Ruling Party is visiting the city.
Police Department is no less. There was one occasion I had lost my mobile phone and thought the local police could help. (Silly me!) Even after producing the required original documents and providing clear information, they kept asking me some complex questions in Marathi which were beyond any normal human's comprehension. I vaguely recall they were trying to prove that I was trying to raise a fake theft case. On another occasion, I lost my SIM card and I was sent to three police stations since it didn't fall under their jurisdiction. (As if they would've moved their issues had it fallen in their jurisdiction.)
5. Civil Awareness: All these points pertain to the system, its limitations, and its flaws. But how about 'we – the people'? Driving in Pune is a unique challenge and they should reward an extra brownie point every time you reach home alive. Wearing a helmet is rather a formality than a responsibility. The city is flooded with vehicles and the prerequisite for driving/riding them is an ability to honk unremittingly. People seem to get some sick pleasure out of honking for no reason – including that outside hospitals and schools. Hygiene in public places is yet to be introduced in the school curriculum, let alone set an example for other cities!
(6. Bonus Point: Virtual Socialites: This may not concern many, but one thing I love about Bangalore is that its virtual space is not filled with/dominated by some wannabe socialites. Most influential people I've come across have the same bio on Twitter as they are in real life. This is specifically in reference to the woman-beating-investment-banker-slash-DJ from Pune. Err... New York City!)
I used to curse Narendra Modi's Gujarat Government (and still do) for their complete failure in providing appropriate employment to hundreds of thousands of Gujarati IT professionals like me. Most of us are settled outside Gujarat because there's no other better option. But then, what better has the Maharashtra government done to me? And I'm talking about the Pune Municipal Corporation (PMC and PCMC). Week-on-week, the cost of living keeps getting higher; roads don't get any better; even an hour's rain blocks major routes; we are far from having a world-class airport (managing with some charity from Air Force instead) and even if these things fell into place, honking and undisciplined traffic is unlikely to go away. If it wasn't for Commonwealth Youth Games, we wouldn't even have these acceptable roads in some parts of the city. So, where does my tax money go?
I visited Pune four times during the first half of my stay in Bangalore. I was still getting used to this new lifestyle in Bangalore. But then, it took me 8 months to visit Pune again after that. In 2012, I visited Pune only once. Why should I deal with this mess in Pune when I have an option of a better living in Bangalore? I know I've ignored some vital statistics and parameters. And I may have generalized things. But that doesn't change the fact that Pune has to get better.
I conducted a brief survey on Facebook to understand which city people thought was better.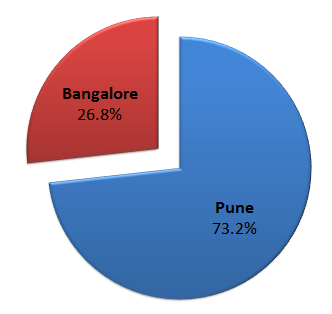 Pune emerged as a winner with a whopping 73% (as of January 2013)! I can only ask them to take a road trip from Bangalore to Pune and experience the real difference.
Here's asking all the Punekars – locales, migrants, and faithful admirers like me: Can Pune ever become the best Indian city to live in?
Image Source: hindustantimes.com