Road To Healthy Life '09
Rahul Desai | 02 Oct, 2009 | About 2 mins read

Article title courtesy: Symantec Road to Cutting Edge '09. The big difference is when I write 'Road' I mean 'Road'. Lately, with my highly conscious efforts to get into some good shape (other than a 'round' shape), I had to make some serious commitments. One of that happens to be my daily (evening) visit to Air Life Studio (the gym) around 7 PM.
I now know what they mean when they say 'road to success is not easy'. My 3 km journey from my current residence to the gym is 'that same road' they've been talking about. While I can be home in less than 5 mins on my way back, reaching the gym during the evening peak hours takes me at least 25-30 mins. 'Deadlock' jams at the Parihar Chawk traffic signal (one of the most prominent, busiest, narrowest junctions of the Aundh suburb) start testing my patience and willpower. If waiting at the signal for ages and crawling at less than 10 km/h was not enough, the other day a bicycle rider gladly slipped through small gaps, bumped onto the pedestrians' path to the 'cycle track', and disappeared. While I was still stuck in the traffic at the same place and envying thinking how lucky he was, he passed back in the opposite lane – probably done with his work (out).
Pune. Poona. The cultural capital of the state of Maharashtra. IT-hub, Auto-hub, and whatnot. So where do we stand as citizens of such a significant city? Even after the overnight facelift of the city (God bless Commonwealth Youth Games 2008 committee), the situation isn't that different. With new wider roads, we have wider traffic jams. Honking seems to be a habit, and people seem to get some blissful pleasure in blowing horns even during normally moving traffic. I was once reading this age-old article in the Times of India and I'm afraid the situation is no better.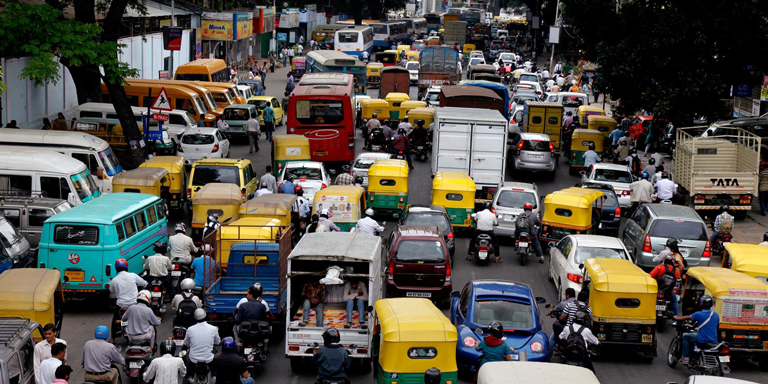 Stepping out to the city streets is a courageous task. And after all this struggle, you don't just reach the gym - you practically achieve Moksha every day.