Once An A$# Always An A#$
Vaibhav Goswami | 10 Jan, 2006 | About one min read

The same applies to our very dear Jammy as people call him, such a spineless creature he is, which he had been proving in the past and has proved it yet again.
Remember The GREAT WALL of India Rahul Dravid doing wicket-keeping under the influence of former captain Ganguly? The same guy under the influence of 'someone' from Australia as I would say is in the process of ditching none except the person with whom he has travelled so far so good...
I am not a great supporter of Saurav Ganguly, but still I feel that his departure is unfortunate as far as Indian cricket is concerned. There could have been a better way to end things. As it has always been the trend, that the selectors most of the time suck… and so did they this time. Moreover swearing on their children in public? WHAT THE HECK??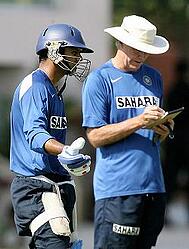 Stats if we see, Ganguly is impeccable though his performance in the recent time and has been up to the mark. And how can one forget Ganguly dancing down the track and hitting sixes to Murli... one of the things that is most amazing in the proceedings has been the silence that the senior players have adopted. As far as I feel, Sehwag may just be the next one after Ganguly!!
But our present skipper is a silent dumb a$# is what I feel. I am not sure if he has been given any threats or so by the big daddy, but he should remember one thing that he could never replace the aggressiveness of the TIGER.
I will say it again that I am Not a BIG TIME supporter of Ganguly. But he does deserve a better exit than this. If this is the way it is done, this seriously is a black spot to the community which accepts cricket as their religion!!!
Image source: rediff.com