Rang De Basanti
Vaibhav Goswami | 14 Feb, 2006 | About 2 mins read

Director(s): Rakeysh Omprakash Mehra/ Acto(s): Aamir Khan, Siddharth Narayan, Sharman Joshi, Soha Ali Khan, Waheeda Rehman, R. Madhavan, Kunal Kapoor, Atul Kulkarni, Alice Patten

Rang De Basanti!!
LOSE CONTROL!!!

Watching the 3rd consecutive movie made me feel something to be proud of about Bollywood. The Movie I would simply say is the BEST among the Hindi movies I have ever seen so far.
With an essence of patriotism the movie portrays the fact that no matter where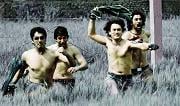 we are, what we do, and where we belong, we still are a part of the community called Indians. The best part about the movie is that there isn't a call for the youth to fight for the country or to devote their lives to the nation, but the fact that how these characters who look to me just like one of us, who have nothing to do with all the CRAP as we all consider it to be get inside the heart of National issues, which then affects their personal lives and then they get into taking the initiative for something which they always considered as Crap!!
Apart from all the major issues this movie deals with, it seems so nostalgic to people like us who have just come out of college and does include some very minute things which apart from the theme of the movie could not be neglected.
The characters displayed in the movie a fabulous and the way these characters are kept on track with the young freedom fighters of that era is a feast to watch. The movie never loses its grip at any point in time, and the Music of the movie is fabulous. Every character is so very much alive in the movie that the person watching the movie finds himself somewhere in the movie.
The Movie also targets the various sections of the YOUTH which includes a student politician Lakhan Pandey who has different objectives than our dudes like DJ and Sukkhi. The English lady has been amazing in the movie especially when she says 'Maa ki Aankh' to the boss of hers.
The MOVIE simply passes a message to each and every one of us that 'MEDIOCRITY is SIN'.