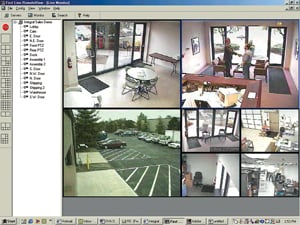 This article is a core-IT (Information Technology) subject with a core-professional interest for the related people. Any person outside this domain is likely to start throwing up right at the beginning of the article. Further (obviously), a big part of the article content is inspired from a whitepaper with the market-research objective. Non-techies can drop the article right here or there's always an option of challenging your puking sensation. ITians, just dig in. I've deliberately left some points untouched and unexplained. I would love to discuss them in detail, should someone notice and raise these points.
So here you are, 'IP-Surveillance: A Report'
An Eye In The Sky
All those into computer networking related (based) businesses (or investments), this is the high-time to get in to the IP video surveillance. With a large untapped customer base just waiting to be explored, the new age IP surveillance is best suited for solutions providers as with networking skills. I've just touched it and I realized there's a lot to be explored, learnt and encashed (at least for the networkers).
So get in to the opportunity and enjoy the first mover advantage, before it becomes an en masse business.