An Eye In The Sky
Rahul Desai | 04 Apr, 2006 | About 7 mins read

This article is a core-IT (Information Technology) subject with a core-professional interest for the related people. Any person outside this domain is likely to start throwing up right at the beginning of the article. Further (obviously), a big part of the article content is inspired from a whitepaper with the market-research objective. Non-techies can drop the article right here or there's always an option of challenging your puking sensation. ITians, just dig in. I've deliberately left some points untouched and unexplained. I would love to discuss them in detail, should someone notice and raise these points.
So here you are, 'IP-Surveillance: A Report'
An Eye In The Sky
All those into computer networking related (based) businesses (or investments), this is the high-time to get in to the IP video surveillance. With a large untapped customer base just waiting to be explored, the new age IP surveillance is best suited for solutions providers as with networking skills. I've just touched it and I realized there's a lot to be explored, learnt and encashed (at least for the networkers).
So get in to the opportunity and enjoy the first mover advantage, before it becomes an en masse business.
History
Mention video surveillance and most people think of video cameras mounted on the ceilings of banks or jewelry shops, or private detectives video taping an erring spouse for a messy divorce case. The truth is that the history of video surveillance is much more complex and goes back much farther than most people realize.
If you consider video in the simplest of terms, then video surveillance began with simple closed circuit television (CCTV) monitoring. As early as 1965 there were press reports in the United States suggesting police use of surveillance cameras in public places.
Three Types of Surveillance Solutions
Plain old analogue types
Hybrid - where analog equipment are used and the data is converted to digital and then integrated on IP networks
Digital or IP based - where the complete solution is IP based right from the surveillance camera to the archiving server
The typical analog nature of these solutions were such that there was no reason for any IT channel publication to talk about it. Then what should be the interest of looking into video surveillance for the solution providers like me?
The answer lies in the development that has happened in the last few years in the world of video surveillance.
Much on this for a moment
Video surveillance constitutes 75 percent of the total global security market today, and has transformed from analog to digital solutions, very rapidly. (Obviously, it's difficult/impossible for me to conduct any surveys and collect meaningful, realistic figures. And often it kills a reader's interest while reading an article. However, I have included them at places for the fact that often such survey results and statistics are far more shocking and on times completely opposite to what we thought was reality.)
Digital video surveillance further evolved into the Internet Protocol (IP)-based surveillance. The entry of IP in the digital video surveillance infrastructure is where the role of IT channel partners steps in.
The moment IP comes in the picture, it opens up a whole lot of opportunities. Use of IP automatically brings in business opportunities for a large base of networking products vendors. It also gives networking solutions providers an opportunity to explore this market as a new business area.
The Internet has enabled video surveillance to be instituted virtually anywhere and be watched from anywhere in the world. With satellites bouncing signals around the globe, you can now watch anyone anywhere from your laptop. The eye in the sky is a reality with digital streaming video.
Sizeable market
While no official surveys have been carried out to assess the total market size for video surveillance business in this country (that would be INDIA, as I could interpret), it's for sure that the market is huge and largely untapped. Considering the applications and verticals that can be addressed with this technology, solutions providers must foresee a bright future for this market.
World over, especially in the United States and European countries, IP-based surveillance has penetrated to almost every customer vertical that one can think of. According to assorted international researches, the US and Europe alone contributed 72 percent to the global security market which totaled to $63 billion in 2003-04. Asia Pacific contributed about 9 percent to this market. (**not verified by Rahul Desai)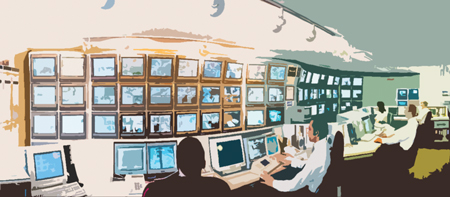 Nothing changed the concept of (or the public awareness of) video surveillance as much as the tragic events of September 11, 2001 when the World Trade Center was attacked by terrorists. Where once people saw video surveillance as an issue that might never affect them, it was now an issue of immediate and lasting importance. Businesses prone to theft, including banks, retail outlets, malls and gas stations, have begun mounting video surveillance systems as a deterrent and in hopes of apprehending thieves, particularly in high-crime areas. The insurance industry also found video surveillance compelling to trace workers' compensation fraud, bogus accident claims and a variety of other cases.
The SOHO and SMB segment is growing at a faster pace, which is undoubtedly, a big segment for surveillance. (A news: entire segment is all untapped!!)
Opportunities for solutions providers
Until recently, this market was being addressed by a specialized set of integrators, which included companies providing physical security solutions. According to market feedback, there are about 200 active solutions provider in the country (again, INDIA, as I can interpret) providing security solutions. The latest is the emergence of IP-based CCTV solutions.
For the players (like me, or better) having the advantage of hold (possibly strong hold) in the wired and Wi-Fi networks, and being in the server, storage and network security sectors, it's automatically the right choice for this market. As per the industry experts, IT-resellers are best placed to take advantage of the IP-surveillance systems business.
IT resellers have the necessary experience and skills to take advantage of the IP-surveillance marketplace. A typical analogue surveillance solution integrator will not know the intricacies of IP networks. Better than getting these integrators to learn networking, is to have network integrators to take up IP-surveillance solutions, who have for long performed the role of educating end users about new technologies and new applications for existing technologies and have a very relevant knowledge base including networking and information security expertise.
As far as the margin in this business is concerned, it can vary from vendor to vendor and depends on the kind of customers the partner is selling to. Since this is a new technology, customers will not be able to always cross check prices, so a partner can give the most competitive price for the solution. But the least a partner can expect is a 20 percent margin. Besides, there are high-value products involve, so the margins work out to be more handsome (because of the additional hardware part of deal. The reseller selling only PCs, servers, switches, etc, will have new range of products like IP-surveillance cameras).
Another reason that makes this market lucrative is the current small base of IT channel partners who have ventured into this business. There are about 200 active integrators of these solutions, of which most are not IT solutions providers but are into providing analogues and physical integration of security systems. This in itself throws open a large opportunity for IT solutions providers to explore. (**again, data neither not surveyed nor verified by Rahul Desai)
In terms of the integration opportunities that IP-surveillance offers, there exist tremendous possibilities starting from implementation and integration, deployment, data synchronization, storage and other such related solutions.
Edge over analog
In a conventional analog CCTV system, an analog camera transmits the analog signal over coaxial cable, to terminate at the display and/or recording device. These are typically dumb systems where there can be no intelligence or analysis of the video data without human intervention to retrieve and evaluate the recorded material.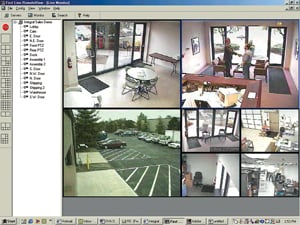 In an IP-based system, a digital camera transmits the digitized video signal via ethernet over a Cat 5 LAN cable to a LAN switch and into a Video Server (Computer). The server manages and manipulates the video signal from this and other digital cameras and displays, records, retransmits the images in nearly an infinite number of options that are selected by the administrative software, including sending data via the Internet to any site on the world-wide web. Thus an IP-based solution is capable of analyzing and recording the data in selectable software formats, and can initiate preventive actions.
IP-based surveillance systems have an edge compared to the conventional analog CCTV-based solutions as they enable live video to be transmitted, stored and managed over a single data network. In many cases, IP based–surveillance systems can be easily integrated with existing analogue CCTV systems.
Features of IP-based Video Survellance System
IP-based recording means instant transmittal of images anywhere in the world
Can monitor multiple cameras from one remote location
No decrease in recording quality over time or with repeated replays
Digital picture quality far superior to analog
IP-based recording is highly compressed for easier storage and can be transported over a variety of media
Digital images can be encrypted for security purposes
Updates and add-ons are relatively inexpensive through software packages and Internet computer networking
Adjustable frame rates
Remote or shared viewing may be done over the Internet or a wireless connection
Standard IP video compression techniques are used
IP surveillance cameras may be added individually or in groups according to your needs
There's lot more to this article... not sure how many readers would actually reach this part of the article, though. That's the reason I thoguht I would leave it like this and end abruptly. Since you've come this far, do bother your self to drop an email to blog@rahuldesai.com to let me know if you're willing to read the
maal
part of it. Waiting...