Blogging For Money
Rahul Desai | 16 Mar, 2006 | About 6 mins read

This certainly isn't the greatest article I've ever read. And frankly, it talks crap. Just that the other day I got to talk to our very own Ms Bhavana Musuluri and she somehow feels that blogging is the only thing I'm involved (engrossed?) into (and not my work or business or girls or any other more considerable things). May be she didn't mean all the other stuff. However, here's an article I came across a few days back, which has some relevance.
They say, some people have actually quit their greatly-paying jobs (and source of brown-bread and cheese-spread) for taking up full-time activity called Blogging. Topic's of interest. At least it boosted me that the only thing I lack today is a quality content - something others might really consider worth 'reading'. So, here you are, an article from 'Business World' March 13, 2006 issue, dedicated to our guest visiting home, Bhavana:
There's Money in it, Honey!
Blogging is no longer just a time-consuming hobby. Many bloggers are discovering ways to profit from their passion.

For many, blogging is a means of sharing their experiences what they hear, read or feel strongly about. They spend hours on it, squeezing out time from their daily grind to do something they love. Still, most bloggers could never think of quitting their day job to blog full time.
But that's changing now. Many people are actually leaving their jobs to blog full time and they are making their blogs pay for their livelihood.
Thirty two-year-old Rajesh Barnwal quit his job as group head (content) at Webchutney.com about four months ago to run his own blog on information and communication technology (ICT). To earn his income, he is trying out direct sponsorship. His Web page, alootechie.com, has a cheekily worded post on the ad space rates he expects from well-funded enterprises. The response has been quite good. There are at least six-seven serious players, mostly in the IT and new media sector, who have contacted me to advertise on the page. It will be finalised in a few days' time, he says.
Barnwal is among the many people around the globe blogging for a living. Australian Darren Rowse is a full-time blogger. He publishes several blogs, including the popular Digital Photography Blog and Problogger, and says he earns a six-figure income doing so. Jason Kottke from the US quit his Web designing job last year to blog for a living. He put up a post on his website, kottke.org, asking for monetary support for his new venture. A lot of his readers thought it was a good idea, for his list of patrons runs into hundreds.
According to the Blogkits 2005 Blogging and Advertising Survey, 18 per cent of the respondents said they blogged for money. Another 28 per cent did it for fun, but said they wouldn't mind earning from their blogs. That's a whopping 46 per cent looking to profit from their passion!
If you think what you are saying on your blog is important and it has a regular readership, there are many ways you can make your content pay for you. The simplest way, of course, is by allowing advertising on your blog site.
Google Adsense is the most popular ad-hosting service for blog sites and has been around for a while. By signing up for an Adsense account, you allow Google to post advertisements on your Web page. For every reader who clicks on the ad, a certain amount will be credited to your account. Google owes its success to contextual ads, which means that only ads relevant to the content will be displayed. For instance, if you have blogged about a trip to Rajasthan, the ads displayed could be of a travel guide for sale, or for flight tickets to Rajasthan. Thus, the probability of readers clicking on the ads is increased.
We determine how much to pay the publisher depending on various parameters like content, reach, traffic and quality, says Ashish Kashyap, country manager, India sales and operations, at Google. But Google does not disclose what percentage of the ad revenues it is paying the publisher. Thus, a blogger who is paid a certain amount for ads on his page does not know how much Google made from it.
And, depending on the content and traffic driven to the page, the sum paid per click could just be in cents. However, since Google sends a cheque only once you accumulate $100, it could be a long wait.
However, Adsense is no longer the only option. Over the last year or so, a variety of advertising services have been launched. So a blogger can choose from an array of options, each offering something different.
For instance, OneMonkey lets you fix your own price for selling ad space on your blogsite, and allows you to keep 80 per cent of the revenue. AdHearUs offers 18 different ad sizes for the publisher to choose from, and allows multiple ads. FastClick offers monthly payment options by cheque or through Paypal, instead of waiting for a cut-off amount to accumulate.
Chitika's eminimalls offers online merchandising on your Web page. It is a product-oriented service, and readers see catalogues of products related to the blog site's content. Since most product details are on the Web page itself, eminimalls works on the principle that users will click when they know the price is right. Cost per click (CPC) is the payment system here too, with Chitika paying the publisher 60 per cent of the ad revenues generated. Publishers can opt to make the ads contextual. For non-contextual ads, eminimalls can be used alongside Google Ads. MSN and Yahoo! are also planning to launch advertising services soon.
An estimated 10-15 per cent of the 100,000 India-centric blogs use Google Ads. That blog-advertising is picking up in India is evident from the fact that Indian companies are also entering the field. Chennai-based Sulekha.com will launch its ad-hosting services in late March for the 10,000-odd bloggers on its network. Interestingly, it will pay the publisher not only per click, but also based on the number of hits the Web page gets. In the CPM (Cost per M, or thousand) system, the publisher is paid a certain amount for every thousand hits on the Web page.
We have over 2,500 small and medium advertisers who are keen to reach the Indian audience this way, says Satya Prabhakar, CEO, Sulekha. He cites companies like property builders Jain Housing, online shoe seller Shoetells.com, and home décor and design dealer Housefullstuff.com, which have shown interest. The advertisers pay between Rs 25,000 to Rs 3 lakh per month, depending on the ad space.
Sulekha has also tied up with Fabmall to launch a scheme where bloggers will benefit simply from blogging. A blogger will get 100 points for every post, 20 points for a comment on his page, and 5 points every time someone reads his page. On accumulating 2,500 points, the blogger will win a gift certificate worth Rs 250 from Fabmall.
Along with blogs, ad services are also evolving. Vive Networks recently launched its video advertising service for blog sites. Here, by adding a few lines of HTML code, bloggers can host targeted video ads on their site. Sports, entertainment and automobiles are expected to be the key categories here.
Another way of blog advertising is through rich site summary (RSS) feeds, a format for syndicating news and the content of news-like sites and personal blogs. Subscribers to a feed can receive excerpts or full content of the blogs they have subscribed to, via email. So, now, besides the Web page, one can also advertise on feeds through services like Kanoodle and Pheedo. For companies, advertising through feeds is proving a popular alternative to sending group emails about their products as the former reaches a more targeted readership. A blogger can also join an affiliate network, like Amazon, Linkshare and Affiliate Programs, to drive more traffic to his or her page. These help the blogger to get targeted traffic towards his Web page through its network.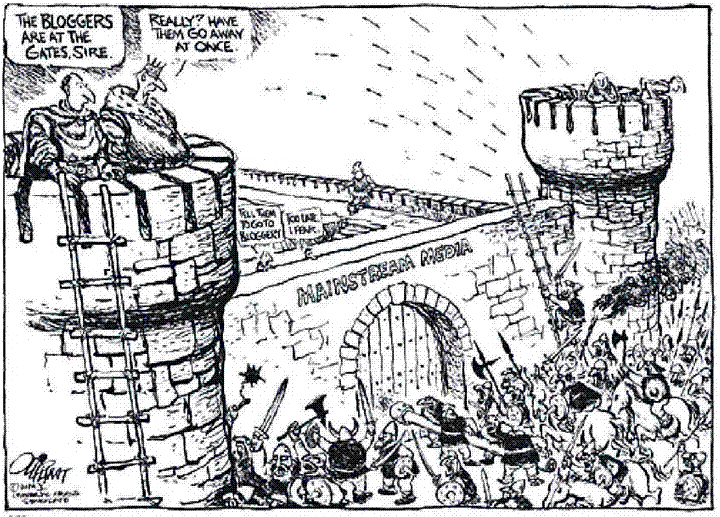 There are other ways to supplement blog revenue. One can write for a blogging network, where a number of bloggers write for a common network, like Weblogs Inc. or About.com. While it does not have the freedom of an individual blog, it may have more readership and work well in the long term.
Globally, corporate blogging is picking up. The conventional way is to get employees to blog about the company. For instance, Google has a blog by its engineers. And there are over 1,500 blogs run by Microsoft employees, who are encouraged to do so by the company. But now, many companies are hiring specialist bloggers to write for them.
For instance, Dale and Thomson Popcorn wants an online marketing co-ordinator to run a company blog on the love of popcorn to boost customer interaction. A keyword search of blog on the popular US online job search site Dice.com yields as many as 52 job advertisements over the last month. And the pay ranges between $40,000-$75,000 a year.
Another recent trend is of experienced bloggers selling their knowledge through e-courses or e-books. One of the best examples is Joel Comm, whose e-book, What Google Never Told You About Making Money With Adsense, became an online bestseller. Comm, who claims to make over $500 a day from Adsense, sells the e-book, which gives tips on how to get the most from Adsense, for $127 online. So, your blogging expertise can also pay rich dividends.
Today, blogging has gone beyond being an interesting trend or even just a disruptive medium. The coming days will see greater and more innovative ways of social e-commerce.
Image Source: famousbloggers.net