Networking: As A Career
Rahul Desai | 10 Feb, 2006 | About 3 mins read

Oops! This article was supposed to be a sequel, but I'm afraid not many have read the previous one. Not an issue as such! Let that be the prequel, since the content in this article is likely to be of some actual use. Less gyan more maal!
If you've not read about the reasons for considering the networking field as a booming area, do consider visiting the 'Networking: Not Working in India' article. Once convinced, here are some more meaningful points you can count on, for stepping into this ocean. Note: The scope remains as Networking around Cisco technologies.
So here you are, tips for people looking forward to Networking - as a career:
Certification and Specialization
There are several options available to students and professionals looking for either a general networking certification or a specialized networking certification. For example, the Storage Networking Industry Association (SNIA) offers two advanced storage networking short-term courses. Similarly, there are institutes such as CMS, IIHT, IACM and Institute of Professional Studies and Research that offer general networking courses. The duration of these courses depends on the nature of the program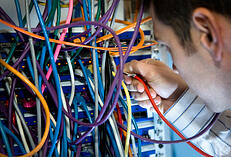 .
From a certification perspective, Cisco offers a comprehensive and recognized networking curriculum and certification. It has three levels of general certification representing increasing levels of expertise: associate (Cisco Certified Networking Associate - CCNA), professional (Cisco Certified Networking Professional - CCNP), and expert (Cisco Certified Internetworking Expert - CCIE). Different tracks across these levels align with varying career needs.
There are six different tracks available for individuals to match their certification path to their job role. These are:
Routing and Switching: Professionals who install and support Cisco technology-based networks in which Local Area Network (LAN) and Wide Area Network (WAN) routers and switches reside.
Design: Professionals who design networks in which LAN and WAN routers and switches reside.
Network Security: Those who design and implement secure networks.
Service Provider: Professionals working with infrastructure or access solutions in an end-to-end environment primarily within the telecommunications arena.
Storage Networking: Professionals who implement storage solutions over extended network infrastructure using multiple transport options.
Voice: Those who install and maintain voice solutions over IP networks.
In addition to general certifications, network professionals can enhance their core networking knowledge by achieving specialist certification in technologies such as security, IP telephony and wireless.
Professionals, depending on their needs can either upgrade their certifications or look to do specialization courses.
At the student level, a large number of technical institutes offer associate-level networking certification and specialization courses in wireless and security through the Cisco Networking Academy Program. Students can opt for these networking courses in addition to their regular engineering courses. Currently, there are more than 130 technical institutes across the country that offer these networking courses.
Students/professionals can also study on their own from online resources or through books and then take the Cisco certification exams conducted online.
Designations and Remuneration
Since there are a number of specialization options the designations vary depending on the area of specialization.
Network Administration: Designations vary from network manager, infrastructure manager, networking engineer, IT engineer, network systems administrator, web technical administrator, customer support engineer, hardware technician and network technician among others.
Network Design: Designations vary from IT architect, network research & analysis manager, systems architect, information systems auditor operations analyst, network planning analyst and network systems analyst among others.
Network Communications: Designations vary from VoIP engineer/architect, telecommunications administrator, telecommunications analyst, voice communications analyst, telecommunications technician, network data communications technician and EDI specialist among others.
Network Security: Designations vary from computer security specialist, network security engineer, network security manager and information systems security manager among others.
Generalist jobs can have varied designations like network systems administrator, networking engineer, network manager, infrastructure manager and network systems analyst among others.
Remuneration would vary depending on an individual's certification/specialization and the kind of organization s/he joins. A plain-vanilla CCNA's starting salary could vary from Rs 8,000-12,000 in a small organization to Rs 20,000-25,000 per month in a MNC. A CCIE can command a salary of up to Rs 2,00,000 a month depending upon the years of experience. In case of international opportunities, plenty of which exist, the remuneration is greater. Going forward, the remuneration packages are expected to grow significantly in lieu of the increasing demand for networking professionals across all major industry sectors.
What do companies look for?
In today's high-growth scenario, enterprises are looking for experienced people who can hit the ground running from day one and deliver RoI. Besides the conventional degrees (BE, MCA) that professionals possess, globally-recognized networking certifications add value and present professionals with additional career opportunities. The networking certifications are also an indicator that a professional has the requisite hands-on experience on networking gear. So it's clear, networking has emerged as a lucrative career option for professionals and students driven by a growing economy and increased ICT adoption among enterprises.