Resistance Is Futile
Rahul Desai | 02 Nov, 2006 | About 5 mins read

With reference to one of my old articles, here's a supporting ET article (and you thought I would type such a long article, all by myself!?). It's an open secret that Blogs have moved beyond mainstream media in the form of fearless speech from individuals, with no limits. If you block the access, there are ways or the others to get anywhere over the web. Let's get this straight, once and for all: You can't ban anything on the Net. And so, here we are, in the world of Blogging!
Blogs move beyond mainstream media to connect and push the limits of fearless speech. So there's no reason for any conflict between journalism and blogging I can still read those sites via anonymizers like anonymouse.org. Let's get this straight, once and for all: You can't ban anything on the Internet!
In May last year, impressed with the idea of bloggers being allowed into US press conferences, India's Principal Information Officer Shakuntala Mahawal told The Economic Times that the Indian government was considering doling out press accreditation to Indian bloggers. Not impressed, Indian bloggers responded with conspiracy theories about how this could be a step towards regulation.
In May this year, lit-blogger Nilanjana S. Roy predicted a clash between bloggers and the Indian government in the next five years. She might as well have said five months, because three months after her prediction, the Department of Telecommunications (DoT) asked Internet Service Providers (ISPs) to block access to 17 websites, of which five were blogs, and the incompetent ISPs ended up blocking the entire Blogspot and Typepad domains, thereby censoring, in effect, hundreds of thousands of blogs from all over the world. The error was corrected a week later after bloggers created a lot of hullabaloo.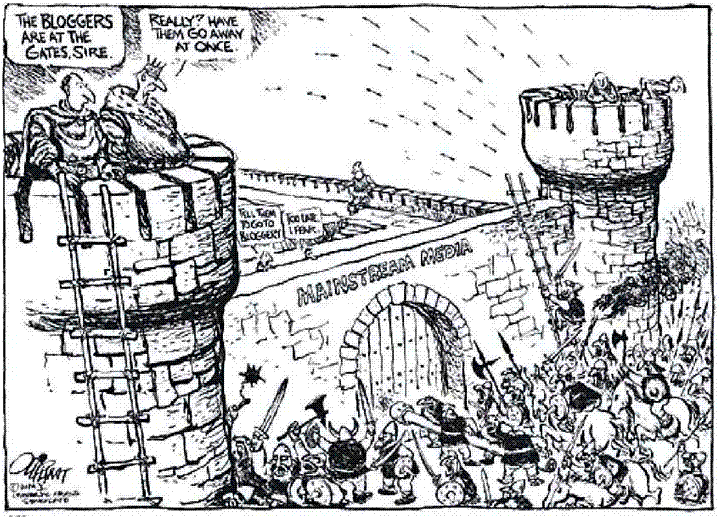 In the list, seven were Right-wing American sites. Some of these contain considerable anti-Islamic venom of the Holy Book-flushing kind, but in the post 9/11 world you will find so many such webpages that it is practically impossible to block them all. They also blocked three NRI Hindutvawaadi sites.
Some of these sites are now thanking the Indian government for bringing them into the news and increasing their traffic. How do I know this? Simple: I can still read those sites via anonymisers like anonymouse.org. Let's get this straight, once and for all: You can't ban anything on the Net.
Imagine the national furor if we were talking here about banning 17 books. As Indian citizens, many bloggers are planning to ask the government, to know, through Right to Information applications, why these 17 sites are being censored at all, and also challenge such censorship through public interest litigation.
The issue has served as a moment of crisis. It has brought bloggers together working collaboratively, across five continents, to resolve the issue, exchange information and email people for help and clarifications. Perhaps, most importantly, bloggers wanted to get the news into mainstream media to put pressure on the authorities.
The last time there was a comparable crisis with a clear 'enemy' was when a management institute was criticized by a youth magazine. The story had a link on the magazine editor's blog. It got linked by other bloggers, one of whom said that the institute "screws around with people's lives". This is language that a newspaper would never use. The management institute sent the two bloggers legal notices to scare them into deleting the posts. They didn't and the institute only made a fool of itself and received adverse media coverage.
When there is a tsunami or a terrorist attack, the 'help' blogs come into action, collating help-and-rescue information. Individual bloggers report their experience of such events on their blogs, the first-hand model that news channels are now trying to replicate in the form of 'citizen journalism'.
The idea of collaborative online help sites in times of disasters is very much Made-in-India, and replicated in tumultuous events like Hurricane Katrina's lash in the US. The credit for this goes to Mumbai-based communications consultant Peter Griffin. Such collaborative online fire-fighting also brings into the 'connectivity' those who are otherwise not very active participants of the Indian blogosphere, such as Angelo Embuldeniya, a Bahrain-based geek.
But crises strike only once in a while. For bloggers, blogging is part of their daily routine. Bloggers write (usually) short 'posts' and create meaning constantly, through hyperlinks. They link to articles on websites and other blogs to discuss them; they link their favorite websites on their blogs' sidebar, and 'blogroll' their favorite bloggers.
Links are important because the more people link to your blog, the higher your site turns up in search engines, the more visitors you get, and the higher rank you get in Technorati, which is to bloggers what Google is to journalists. They install a 'sitemeter' on their sites by which they can see exactly who visited their blog, when and from which link.
Just like other online media, people meet each other through blogging; people make friends and enemies, find soulmates and jobs. Sitting alone behind a computer screen, writing away whatever they feel like in whatever language they want to, being read daily by, at most, a few hundred people, bloggers often do not realize that their words are going to be on Google.
Even when a blog is personal, it is very public. As a blogger grows in popularity, he realizes the power of words and with power comes responsibility. There is, of course, a lot of abuse ('trolling' and 'flaming') but that is par for the course. Anonymous blogs seek to push the limits of fearless speech. One Delhi journalist writes a chick-blog about her love and sex life. Can a woman do that under her own name in even a progressive English-language newspaper in this country?
Considering that it is an ordinary activity, I wonder why blogging makes a sexy story. I was once on a TV channel talking on the pros of blogging. I was shown writing a post as though I were an animal from the zoo on public display.
A fellow blogger-writer, Monica Mody, tells me that the marriage of alternative and mainstream media is not surprising because when the mainstream sees "something they don't understand, with people all smug and satisfied about it, they want to know what's going on".
Some journalists resent bloggers for their distrust of mainstream media (MSM, in blogging lingo). But individuals have always been distrustful of big media — and for the first time they have a place to express it. Not long back, a journalist did a story about 'splogs' or 'spam blogs', and got his facts all wrong. A blogger Saket Vaidya panned the story on his blog, calling the journalist a 'dolt'. The journo responded by attending a public bloggers' meet in Delhi as a lay observer. He went on to do a story with lies about how bloggers were praising themselves. Vaidya and others responded by permanently defacing the Google search on the journalist's name. The incident is fondly remembered as a 'sting operation' against bloggers.
The blogs-versus-MSM balance gets complicated when you realize that many of the prominent bloggers are journalists. And so it was that a scurrilous blog called WarforNews came up in January this year, with loads of gossip and bitching about journalists in news channels. It is said to be the handiwork of a print journalist in Delhi, and has been promptly blocked by some news channels in their offices.