Blessed By The Maestros... Twice!
Rahul Desai | 13 Feb, 2006 | About 2 mins read

If there's anything like 'luck', then I've been the luckiest. Twice! Twice I've been privileged to see and hear their master-duo. Probably it all happened just to reinforce my strong-old belief that if one isn't into one or the other form of art apart from her/his professional work, s/he's always missing on something. As of me, such a life can never be called complete. Especially for we Indians (at heart, or at least on passport), in the field of art and culture, only the sky is the limit. Rich heritage of thousands of years of art in the form of dance and music (and many other fine arts), nurtured by the best in their field Ustaads and Pandits, it's tougher to find an excuse not to be associated with one.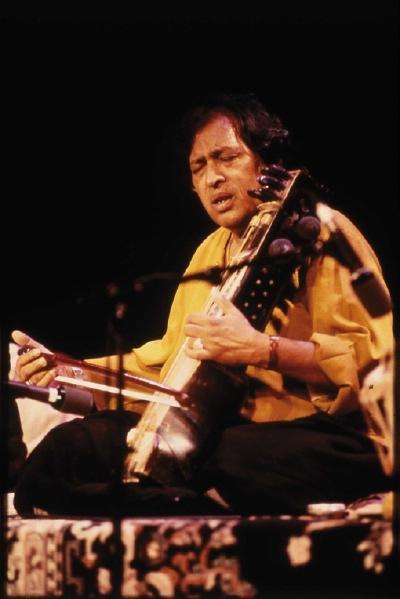 It was a sheer coincidence since we weren't aware of this grand event till very morning. That is, the last morning. Thanks to our local non-reliable newspaper (which proved us wrong for this case), we realized Ustaad Zakir Hussein would be playing for Bharat Bhawan in the evening. We reached the venue on time, being prepared for the typical formal event to be carried with bureaucratic formalities like inauguration speech, conclusion, vote of thanks etc. However, it was just the evening of surprises: the inauguration formality didn't last for long, which actually was held by the Honorable Chief Minister of Madhya Pradesh (Mr Shivraj Chauhan), and His Excellency Governor of Madhya Pradesh, Dr Balram Jhakhar. This eventually was my third meeting (encounter?) with the new CM of MP. Any way. The surprising part was that it was not just Ustad Zakir Hussein, there were also Dr Kanak Rele (MohiniAttam Classical Dancer), Mrs Sharda Sinha (Bhojpuri folksinger) and Swami Ramswaroop Sinha (Rasleelacharya) present in the squad!! Quite a bagful, I must say. However, only Ustad Hussein was to play. Still, it certainly was a bonanza!
So came onto stage, our very own Ustad Zakir Hussein to stun the crowd with his magical hands on Tabla. But hey hey hey! What we see here... Ustad was accompanied by another maestro, Ustad Shultan Khan, the only living legendary to be able to pour life into Sarangi with his blessed hands! Now that's what I call a combo!! Just to share (/show off) my experience, this was the second chance I attended an Ustad Zakir Hussein Live, and the first one (1995) too happened to be in tune with Ustad Shultan Khan. What a way to recall some historic moments of life? And what then? A one and a half hours non-stop, of hypnotizing jugalbandi between the duo. All one could one say was... Wah Ustad!!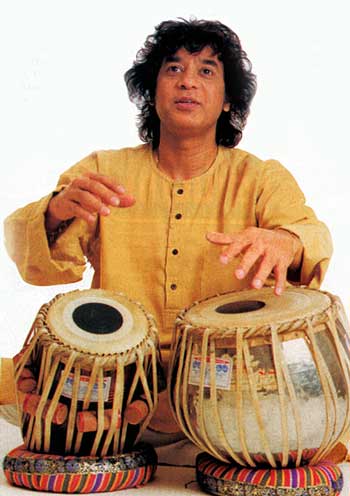 What say crowd? Ustaad ko nahi dekha, to kya dekha... !??