To The Himalayas - The Great Indian Quest For Peace (Part I of Many)
Rahul Desai | 10 Apr, 2010 | About 3 mins read

To the Himalayas, via McDonald's at Lonavala: Just like all my previous whacky trips, this too had to start on an odd note. For the flight at 6 AM from Bombay, I was still at work in Pune at 1 AM. With the grace of God (and pressure/torture from Nirav and Kaushal), we hit the highway by 1:40 AM, reaching Khapoli Highway Foodmall by 2:50 AM. Deadly 'Tum Tum' tea with some fries, pizza puff, and a few egg-do's, we suddenly realized we only had an hour and a half and crouching Bombay traffic before reaching the airport. Kaushal and Nirav were already sleeping in the rear seats; I didn't have anyone I could confess to – that my situation was no better. We still made it to the airport by 4:30 AM. I'm good! So far, no pictures – we actually didn't have any time for that.
Torture: As direct customer-facing representatives, what could possibly be the toughest 'handling' situation for the onboard staff? An irate customer crying for a seat change (for a completely unreasonable reason); or a group of terrorists politely disclosing their 'goodwill' to hijack the plane? The onboard crew is trained to handle such situations. But how about a kid bursting into a 'loud' cry every time the airplane is in motion? Can you beat that – that kid had a problem with the airplane moving. ("It" probably belonged to the airport and NOT the airplane.)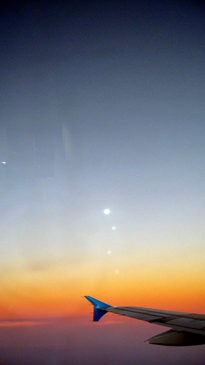 With an hour and a half advance arrival at the airport, this was just turning into one of my most well-executed traveling plans so far. I was the first to clear the security check, almost the first to board the plane… for WHAT? This 'crying machine'? S/he just wouldn't stop!! I had to catch some sleep. I had earned it.
Surprise: I was struggling for some good sleep when I suddenly witnessed the greatest combination of colors. I realized it's just not easy to capture the beauty of the dawn – especially when there's a bright full moon right on the top! With a proud smile (for my photography skills) and a great sense of satisfaction, I gracefully fell asleep and also started dreaming – I was on a plane from Bombay to Delhi when the captain decided to emergency land in Jaipur (for some 'confidential' military reasons). (Dreams – they can get really filmy!) It's less than two hours from Bombay to Delhi anyway. It'd be better to fly back, than emergency land in Jaipur. Jaipur just didn't make any sense to my limited available senses in the dream. And I suddenly felt a massive jerk!
The plane had actually landed in Jaipur – in reality – due to heavy fog in Delhi. (Air traffic issues in Delhi during winters are pretty similar to flood issues in Bombay every monsoon. They know the problem - somehow it's not on their priority list to fix, as yet.) So we landed. In Jaipur. In reality. We weren't the first to commit this crime – there were 13 others in the queue awaiting a landing opportunity at Delhi airport. What followed was to be my surprise encounter with Jaipur – and what a time to be here – my mobile-free-computer-free-just-with-myself vacation! Not that they allowed us to walk out, the pink city looked equally pink even from inside the airplane. Felt like calling up my Jaipuri friend Vaibhav Goswami! (Which reminded me of the sad fact that I had lost my mobile just a couple of days ago. :-| )
Coming back to Jaipur, maybe it was the pleasant 14° C morning out there (Gulaabi thandi), I was feeling fresh and energetic. Positively. Unfortunately, the pleasure was ephemeral, for the captain consistently kept reminding me of the fact that it was just not the fog; there was also some serious technical failure in Delhi. On any other day, it would have added to the fury. But I was enjoying the unanticipated sight out of my window! By the way, I realized one 'good' thing during this halt here – Pune's Lohegaon airport isn't the smallest one in India. We also have Jaipur!
Two hours, two A4 sheets, one sandwich, one tea, and one coffee down, we were finally ready to take off again. I must thank my whatever-duration life in Bombay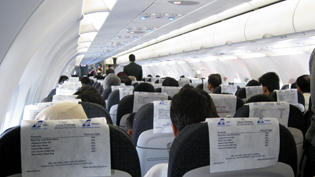 (and Pune, for this instance), I don't get furious about traffic jams and flight delays anymore. Say, I've adopted the reality, or given up on any hopes of improvement. I just don't get disturbed/panicked in such situations – which is the good part. (I still can't tolerate irresponsible and rash driving. To me, rough driving and traffic jams should be mutually exclusive, and NOT symbiotic.)
Final call for take-off. 5 minutes before "ATC" gives clearance, I deserved one more coffee. I had 'written' (and not 'typed') a lot, in a long time. (I'm still equally good at cursive writing!) Pens down!