When Opponents Cooperate
Rahul Desai | 24 Jan, 2006 | About 4 mins read

I'm not the greatest at management fundamentals, and describing this logic in my language will be tough (for the reader to digest). So like an established programmer, I will simply Ctrl+C and Ctrl+V this article from The Economic Times (New Delhi, January 25, 2006), Money Talk. I prefer reading ET regularly, however 'Editorial' is the only page I manage to read for sure. And that's where I came across this well-pondered article on Indo-Chinese trade-ties.
I am equally horrible at management jargon, and please correct me if by the end you realise I have completely killed the crux of the article. As far as I could see it, it's about collaborating with your opponent and simply leaving the rest wondering! Though this particular article talks about probable Sino-Indian tie-ups in energy sector, the concept makes great sense to me. For that matter, any such initiative is more likely to solve many other political issues between the two human-resource giants. In fact, how about growing such a scenario between India-Pakistan too? Okay, maybe I am deforming the morale of this article. Back to the point, here is an interesting read from Mr. M K Venu, "It's time for an Asian energy forum"!
The western world already seems to be taking a somewhat exaggerated view of the impact that India and China could have if they were to come together on a common platform on certain critical issues. Sample this one: petroleum minister Mani Shankar Aiyar was in Beijing last fortnight with a small delegation comprising heads of public sector oil companies. He signed a memorandum of understanding with a Chinese minister - equivalent of our Planning Commission deputy chairman - on broad cooperation between the two countries in the area of energy. Coming as it did on the back of an unprecedented joint acquisition of a Syrian oil field by India's ONGC and a Chinese oil company; the western press came in unusually large numbers to figure out what this new MoU was all about.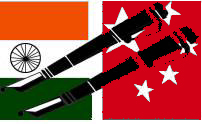 Mr. Aiyar himself may have been a bit surprised at the number of journalists who showed up at his press briefing at the Indian embassy. The room was choc-a-bloc, to say the least. Everyone wanted to know what the India-China MoU all about was. Mr. Aiyar, of course, held forth in his own inimitable style, on his pet "passion" India and China driving Asian energy cooperation as the largest buyers of oil and gas in future.
The bigger surprise came the following day. The Financial Times carried the story of India-China cooperation in energy on top of the front page, running right across as a lead item. In sharp contrast, almost all Indian newspapers had put the same story on the inside pages. This, by itself tells a story. India and China doing anything together "even nominally" will be viewed with a sense of awe by the west. This also partly explains why there is so much eagerness among large sections of US strategic community to have India on its side to contain China in this region.
Energy is the single most important issue on which the US would not want to see India getting close to China. Though the outcome of the petroleum minister's visit produced several MoUs, including the ones between Chinese and Indian oil companies, there is also some scepticism in the media as to how far they will succeed in practice. This is largely because of the historic bias that exists against China in our foreign policy establishment. But then things are never static in the world of diplomacy. Diplomacy can often produce non-linear results, surprising everyone, as was seen in the landmark Indo-US nuclear agreement. It may be interesting to watch whether China and India would give each other a similar positive surprise in the years to come.
But one thing seems clear from the Chinese approach so far. They may be somewhat inscrutable and slow in moving, but they do stay committed once they decide to. The other significant trend that this writer discerned after interactions with top Chinese think tanks is that the message about cooperating in the area of energy has seeped down to all levels. Everyone, including the heads of oil companies as well as their middle level managers, was unanimous on the idea of working closely with India.
The president of China's biggest oil giant, China National Petroleum Corporation (CNPC) passionately advocated that as big consumers of oil and gas, India and China must not raise the cost of energy through mindless competition. They must cooperate to optimise their respective energy production and consumption strategies. Strategists at the Chinese foreign policy establishment even suggested that energy cooperation between the two countries could be dovetailed into some of the existing sub-regional economic and security groupings in Asia. A suggestion was made that energy cooperation could be made part of either the existing Shanghai Cooperation Organisation, in which energy-surplus Russia is an important member, or the East-Asian Summit process. The point made was that energy cooperation could be incorporated into one of the many evolving sub-regional architecture in the larger Asian region.
Mr. Aiyar addressing a large Chinese audience made out a strong case for an Asian Energy Forum, which will eventually act as a trigger for stitching up a larger Asian economic community. The Chinese appeared to have received well his idea that India and China would do well to take lessons from 19th century Europe where nations were constantly at war over limited resources. It is only later in the mid-20th century that some sanity prevailed and the idea of resource sharing became institutionalised through the Coal and Steel Union, the precursor to the European Union.
Many thinkers believe that if India and China, with nearly over 70% of the world's prime consuming population, were to grow at 8% plus over the next two decades, they will necessarily have to institutionalise resource sharing within the evolving sub-regional architecture in Asia. There is certain inevitability about this prospect, which many will recognise progressively.