Director(s): Danny Boyle/ Acto(s): Dev Patel, Freida Pinto, Madhur Mittal, Anil Kapoor, Irrfan Khan

A Mumbai teen who grew up in the slums, becomes a contestant on the Indian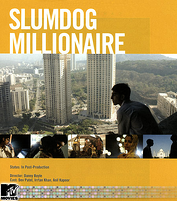 version of "Who Wants To Be A Millionaire?". He is arrested under suspicion of cheating, and while being interrogated, events from his life history are shown which explain why he knows the answers.
Great movie with amazing background (and foreground) score, I still feel this movie is fairly overrated. It closely touches the bitter reality and the aspects of 'Real' India unknown to many. However I'm not sure if I would want to highlight it too much.
Global recognition for A R Rahman's music is a step ahead in marking the Indian Art industry presence in the world media. Otherwise, A R Rahman has done far superior compositions many of which are sadly ignored.[There's more to this. I need someone to write a more detailed review of Slumdog Millionaire and re-publish this article in her/his name. Interested? Leave your contact details here or email directly to me. I will revert before you click on Send!!]